Green Initiatives
---
Tree Management Statement
At Your Door Collection
(hide)
---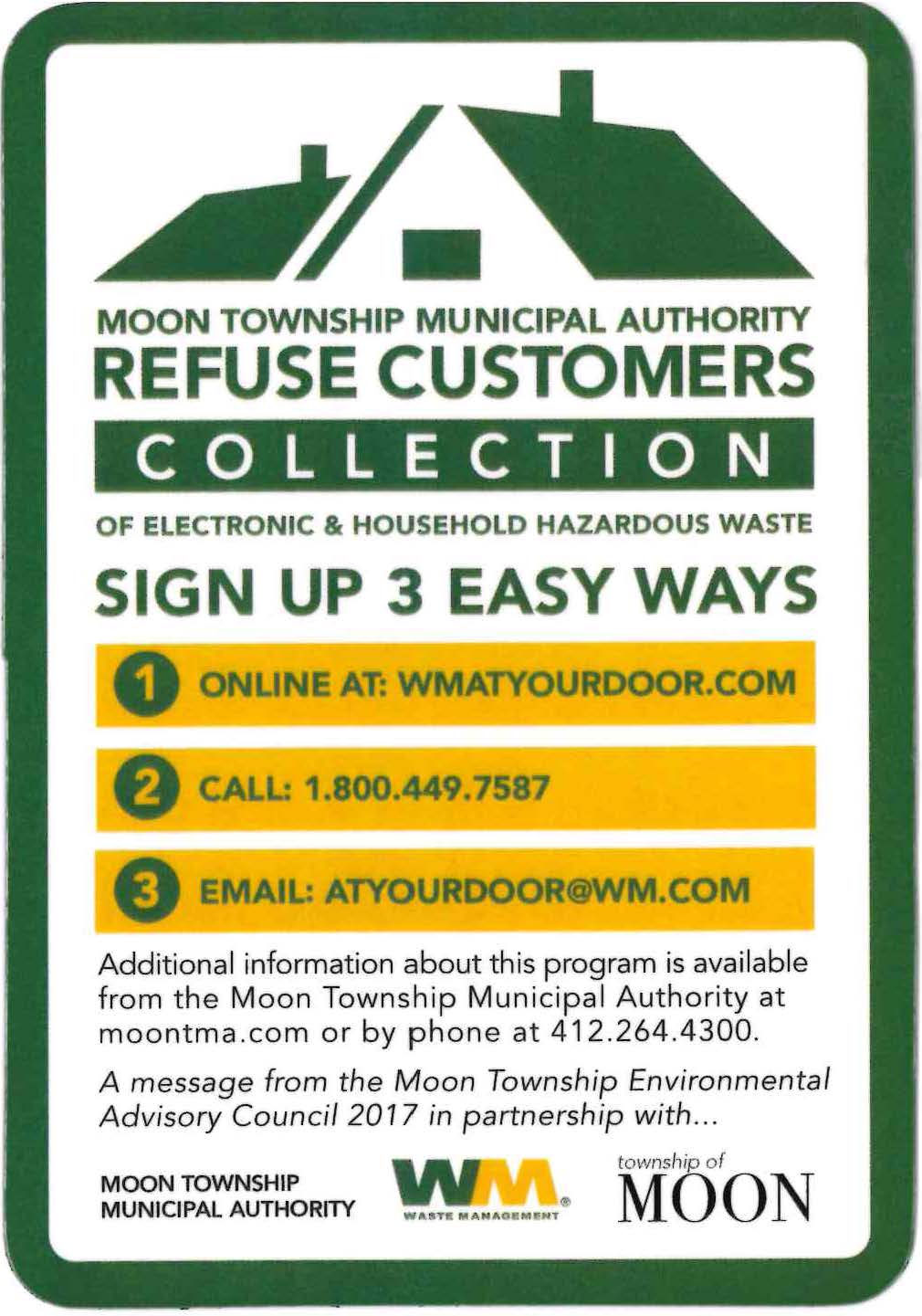 Recycling Guidelines
(hide)
---
Businesses
Pennsylvania law and Moon Township Ordinance require businesses to recycle the following materials: aluminum containers, office paper, corrugated cardboard, and yard waste such as leaves, shrubbery, and tree trimmings - excluding grass clippings. The Moon Township Municipal Authority needs to verify that all business, institutional, and multi-family properties are participating in a recycling program.  Please contact the MTMA at 412-264-4300 to confirm the current status of your recycling program or to get a recycling program started.
Electronic Recycling
Moon Township, in collaboration with Waste Management, offers a residential curbside special materials pickup. The "At Your Door Special Collection" program allows Moon residents to easily and safely dispose of household materials. There are three ways to schedule a collection: online at www.WMAtYourDoor.com, calling 1-800-449-7587 or by emailing AtYourDoor@WM.com. After scheduling your collection date and time a Waste Management representative will provide you with information and instructions for preparing for your collection. More information on the program and what materials are accepted can be found through the program's website at www.WMAtYourDoor.comor by calling a representative at 1-800-449-7587.
Please read the informative Moon Hazardous Waste Pickup Pamphlet for more information.
Residential
The Moon Township Municipal Authority handles refuse and recycling for residents through the assistance of a contract hauler - Waste Management of Pittsburgh. For more information visit the MTMA's website: www.moontma.com
Solarize Moon Township
(hide)
---

Solarize Moon Township is a community-supported solar campaign providing multiple quotes from qualified, local solar installers so residents and business owners can compare prices and find the best solar solution for their homes and businesses. Solarize Moon Township is made possible through a partnership between the Township of Moon and Solarize Allegheny. For free quotes, workshops, events and other information, visit the Solarize Allegheny website.
Stormwater
(hide)
---

Stormwater runoff is generated when rain and melting snow flows over land or impervious surfaces and does not saturate into the ground. As the runoff flows over the land or these impervious surfaces such as paved streets, parking lots, and building rooftops, it accumulates debris, chemicals, sediment or other pollutants that could harmfully effect water quality if the runoff is left untreated.


What you can do:
-Turn your yard waste into useful compost and find other alternatives to fertilizers, pesticides and herbicides.


-Sweep up anything left on sidewalks, driveways, and roads.


-Never pour anything into storm drains.


-Direct downspouts to grassy not paved areas.


-Check for leaks from your car's engine and recycle motor oil.


-Wash your car at a carwash instead of your driveway.


-Clean up all pet waste.


Pollutant Reduction Plan
The Pennsylvania Department of Environmental Protection requires municipalities to develop a Pollutant Reduction Plan (PRP) to reduce the discharge of pollutants into impaired watersheds. View ">Moon Township's Pollutant Reduction Plan
For more information read this informational packet about stormwater: stormwaterpamphlet.pdf
Learn more about stormwater at the PA Department of Environmental Protection
Rain Gardens
Green Roof- Moon Township has received a grant from ACCD for a feasibility study to put a green roof on the township building. Visit http://accdpa.org/ for more information.
---
MCA-TV Stormwater Documentary "Soak it Up"
(hide)
---

Soak it Up: A Stormwater Documentary is a half-hour educational program about stormwater management and the impact stormwater has on the environment. However, the main focus is on how community members can help prevent stormwater effects. The documentary includes interviews with Chad R. Davis, P.E.; Malcolm Petroccia, P.E.; Diane Selvaggio; and Uzair Shamsi, Ph.D, P.E. This is a MCA-TV studio production with video work and editing by Clark Cairns.
Environmental Advisory Council
(hide)
---

Go to the Environmental Advisory Council's page: The Moon Township EAC is made up of seven members. Their basic responsibilities are to provide independent advice and counsel to the township on environmental issues such as:
-Identifying environmental issues and recommending plans to appropriate agencies for promotion and conservations of natural resources


-Protecting and improving the quality of the environment within its territorial limits


-Making recommendations as to the possible use of open land areas of the political subdivision within its territorial limits


-Promoting community environmental programs, such as Recycling Day, Earth Day and Great American Clean up PA.


-Keeping an index of open areas, publicly or privately owned, for the purpose of obtaining information on the proper use of such area


-Advising the appropriate township agencies, including but not limited to, the Planning Commission and township supervisors
Recycling Day
(hide)
---
Saturday June 1st 2019
8 a.m. - 1 p.m. | Township Administration Building
Mark your calendars for Moon Township's Annual Recycling Day. This event is open to Moon Township residents only. Proper ID is required. Accepted items include: usable construction materials, household appliances, electronics, art supplies and limited medical supplies.

Moon Township's Environmental Advisory Council, with the assistance of community volunteers, host this annual event the 1st Saturday in June. Over 1000 residents participate. The main idea is to keep reusable material out of landfills. The five recycling venders that participate are Liberty Tire, JVS Environmental Services, Construction Junction, Creative Reuse and Global Links.




Shredding Event
(hide)
---
June 3rd, 2019 | Moon Area Junior High School, Tiger Trail
To raise awareness of consumer fraud and to promote prevention of identity theft, we host a shredding event to give individuals the opportunity to have unneeded confidential documents destroyed FREE OF CHARGE. Document shredding occurs on-site with the shredded paper to be recycled. To accommodate the high volume of material to be shredded, additional secure collection trucks are on site. All shredding is performed by a local National Association for Information Destruction and Mobile Shredding Association member company. This event is for individuals only. No businesses please. Limit of 5 boxes or bags per vehicle.




Electronics Recycling Day
(hide)
---
April 6, August 3 and October 5
10 a.m. - 2 p.m. | Township Administration Building
Moon Township's Environmental Advisory Council in partnership with JVS Environmental, host quarterly electronics collections to gather unused and unwanted electronic items. These events collect electronic items only, including printers, copiers, computers, laptops and televisions. Electronics collections are open to Moon Township residents only.
Rain Garden
(hide)
---

Unlike regular landscaping islands, the rain gardens are actually shallow basins planted with trees, shrubs, and perennials native to the region. The gardens are designed to let rain water filter through the vegetation and soak slowly into the ground. As a stormwater management technique, the rain gardens can help avoid overloading the local stormwater drainage system, which can cause overflows into area waterways.

Moon Township has numerous rain gardens throughout the township with three feature rain gardens surrounding the 9/11 Memorial Garden in front of the Township Municipal Building. Beyond improving the aesthetics of the memorial garden, the rain gardens function as a natural stormwater solution at the site by absorbing rainwater runoff from Beaver Grade Road and surrounding parking areas.

Green Roof Moon Township has received a grant from ACCD for a feasibility study to put a green roof on the township building. Visit http://accdpa.org/ for more information.
Water Conservation
(hide)
---

In addition to saving money on your utility bill, water conservation helps prevent water pollution, greenhouse gas emissions associated with treating/distributing water and overloading municipal sewer systems can also cause untreated sewage to flow to lakes and rivers. The smaller amount of water flowing through these systems, the lower the likelihood of pollution. Water conservation has become essential in all regions, even where water seems abundant. That's because our water resources are finite, and they are getting smaller every year. Please use our guide to save more water. Visit http://moontma.com/General%20Info/water%20conservation.html
Leaf Compost
(hide)
---

Public Works offers a yard waste composting program for residents each spring and fall. Watch for dates and times to be posted on moontwp.com, on Facebook, in the township's monthly email newsletter, in the quarterly Moon Township Messenger magazine and on the MCA-TV message board. Residents are welcome to drop off yard waste including tree limbs, leaves and plant matter to be composted at the Downes Fire Station located near the intersection of Beaver Grade Road and Ewing Road. Brush should not exceed six feet in length and four inches in diameter and should not be bundled or tied.
Moon Township encourages residents to try composting at home. Composting food and yard waste diverts organic waste from the landfill and creates a rich soil additive for landscaping projects. A home composting guide is available on the Pennsylvania Department of Environmental Protection website at www.depweb.state.pa.us.

For at home composting information please visit this link.
Curbside Brush and Tree Limb Pick Up
(hide)
---

The schedule follows residents' regular garbage collection. Simply place leaves and branches at the curb by 8 a.m. on pickup day. Residents are reminded to put leaves in biodegradable paper bags. Loose leaves and leaves in plastic bags or boxes will not be picked up. Tree branches should not exceed six feet in length and four inches in diameter and should not be bundled or tied.
Moon Parks – Green Space
(hide)
---

The mission of the Moon Parks & Recreation Department is to advance parks, recreation, and environmental conservation efforts that enhance the quality of life for present and future residents of Moon Township and provide diverse and leisure opportunities through programs, facilities, and services. The Moon Township Parks & Recreation Department offers residents a diverse array of social, cultural and athletic programs throughout the year. With a strong emphasis on maintaining "green space" in the community, the Parks & Recreation Department oversees over 600 acres of park space including the 300+ acre Moon Park, Robin Hill Park with over 200 acres, and Olson Park & Boggs School with over 100 acres. Additionally, Moon park system includes five play lots throughout the community featuring a variety of playground equipment. Earth Day is celebrated every year at Robin Hill Park featuring several interactive tables to teach children the importance of saving our planet.
Christmas Tree Pickup
(hide)
---

The Moon Township Public Works Department offers curbside Christmas tree pickup for live trees only at the start of each new year. Residents are asked to place trees at the curb by 8 a.m. following their regular garbage schedule. All ornaments and decorations must be removed. Artificial trees are not accepted.
---
Moon Township Awarded Gold Certification for its Sustainable Practices
Moon Township is among the first municipalities to become certified through the Southwestern Pennsylvania Sustainable Community Essentials Certification program. Moon Township is recognized at the gold level of certification for meeting the program's rigorous performance criteria which tracks 131 policies and practices that define a sustainable community. The Sustainable Community Essentials Certification, developed by Sustainable Pittsburgh, is designed for municipalities that are working to save money, conserve resources and serve vibrant communities. It applauds municipalities for their demonstrated commitment and sustainability performance.
In earning the gold certification, Moon Township is acknowledged for its progress in addressing such areas as community design and land use, energy efficiency, health and wellness, mitigating blight, intergovernmental cooperation, recycling and waste reduction, fiscal controls and internal management and operations. Details regarding how Moon Township is addressing these areas can be found on the certification program's website sustainablecommunityessentials.org.
---
Look for our Green Initiatives booth at all municipal events.
Got big ideas for improving sustainability in the township? Want to volunteer in any of our initiatives?

Contact:
Lora Dombrowski
Green Initiatives Coordinator
412.262.1700
ldombrowski@moontwp.us